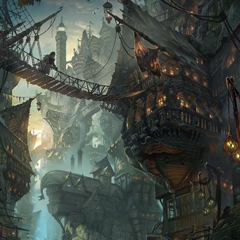 Dando sequência ao post "Concept Arts de League of Legends (As Regiões), mostramos agora as Regiões de Bilgewater, Shurima, Zaun e Freljord, todas parte do game League of Legends, da Riot Games. Confira também o post #01, onde destacamos as regiões Ionia, Noxus e Mount Targon.
A cada termo nós destacamos alguns dos melhores trabalhos de estudantes vindos da CG Master Academy (CGMA) para vê-los causar agito no mundo do Entertainment Design. A CGMA se esforça para fazer os artistas melhores dando todas as ferramentas necessárias, começando com os instrutores. Eles são artistas profissionais da indústria, então conceitos e processos...
Hoje trazemos mais um artista que faz parte do time de instrutores da CGMA. Desta vez apresentamos os trabalhos de Tyler Edlin, que nos últimos anos tem trabalhado para estúdios como Disney Interactive, Hitpoint Studios, Studio Virty's, Fantasy Flight, Paizo Publishing, StarDock Industries, Tornbanner Studios, and Activision.