Hoje nosso destaque vai para os trabalhos da artista Nicolette Wood, que publicou em seu site uma série de layouts criadas por ela para o seriado Star Vs the Forces of Evil, em exibição no Disney XD. Vale ressaltar que, conforme menciona Nicolette, as versões em cor foram produzidas pela equipe de background...
Hoje damos destaque a vários cenários criados pela artista Miranda Tacchia para Star Vs. the Forces of Evil, seriado do Disney Channel que em 2017 estreia sua terceira temporada. Visite o Tumblr da artista e confira mais trabalhos.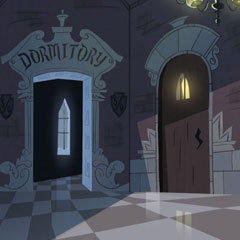 Abaixo, mais alguns cenários de diferentes episódios do seriado Star Vs. The Forces of Evil, produzidas pelo background painter Matthew Thiebes. Confira! For English Speakers New arts from Star Vs. the Forces of Evil Following a few more backgrounds from different episodes of  Star Vs. The Forces of Evil, produced by the background painter  Matthew Thiebes.