A partir de hoje, em parceria com a CG Master Academy ( CGMA), escola líder mundial na educação em arte online, traremos para o THECAB diversas traduções de entrevistas feitas com alunos de diversos cursos, como Character Design, Environment Design, Color and Light, Storytelling, Anatomy e outros. Nessas conversas, estudantes irão comentar e mostrar um pouco de como são desenvolvidos os trabalhos, a partir de tarefas semanais propostas e acompanhadas pelos instrutores.
Então é isso! Se quiser, deixe seu comentário no final da entrevista para sabermos sua opinião. ;
---
Usando contraste e pose para contar uma estória
Entrevista com Kyle Sarafolean, do curso de Character Design for Animation.
Meu nome é Kyle Sarafolean, de Michigan, e sou character e prop designer para filmes de animação para filmes e TV. Eu estudei Design Gráfico e Arte na Saginaw Valley State University pois meu sonho de me tornar um artista da área de animação parecia impossível de alcançar.
Desde que comecei a trabalhar profissionalmente como designer gráfico, eu percebi que minha paixão era character design e storytelling. Foi quando eu decidi seguir minha carreira como um artista. Depois de trabalhar de forma bastante dedicada, por conta própria, por 3 ou 4 anos, eu soube que teria que tomar uma atitude decisiva se eu quisesse atingir os padrões profissionais da indústria.
Foi então que decidi sair de meu trabalho por tempo integral como designer gráfico para focar nos meus estudos de arte e melhorar meu trabalho. As aulas da CGMA tem sido um fator crucial para adquirir as habilidades, conhecimentos e confiança que eu precisava para começar uma carreira de sucesso como artista sem precisar de um pesado investimento financeiro em uma escola de arte tradicional.
Character Silhouette
O objetivo dessa tarefa era criar o design para um Guerreiro Medieval. Eu decidi criar como meu personagem, o Cavaleiro Abóbora, um jovial e amável glutão. Talvez um dia ele tenha sido um guerreiro orgulhoso de si, mas agora é bem mais provável encontrá-lo em um banquete do que em uma batalha. Sua natureza alegre é refletida por sua figura rotunda e sua linguagem corporal suave.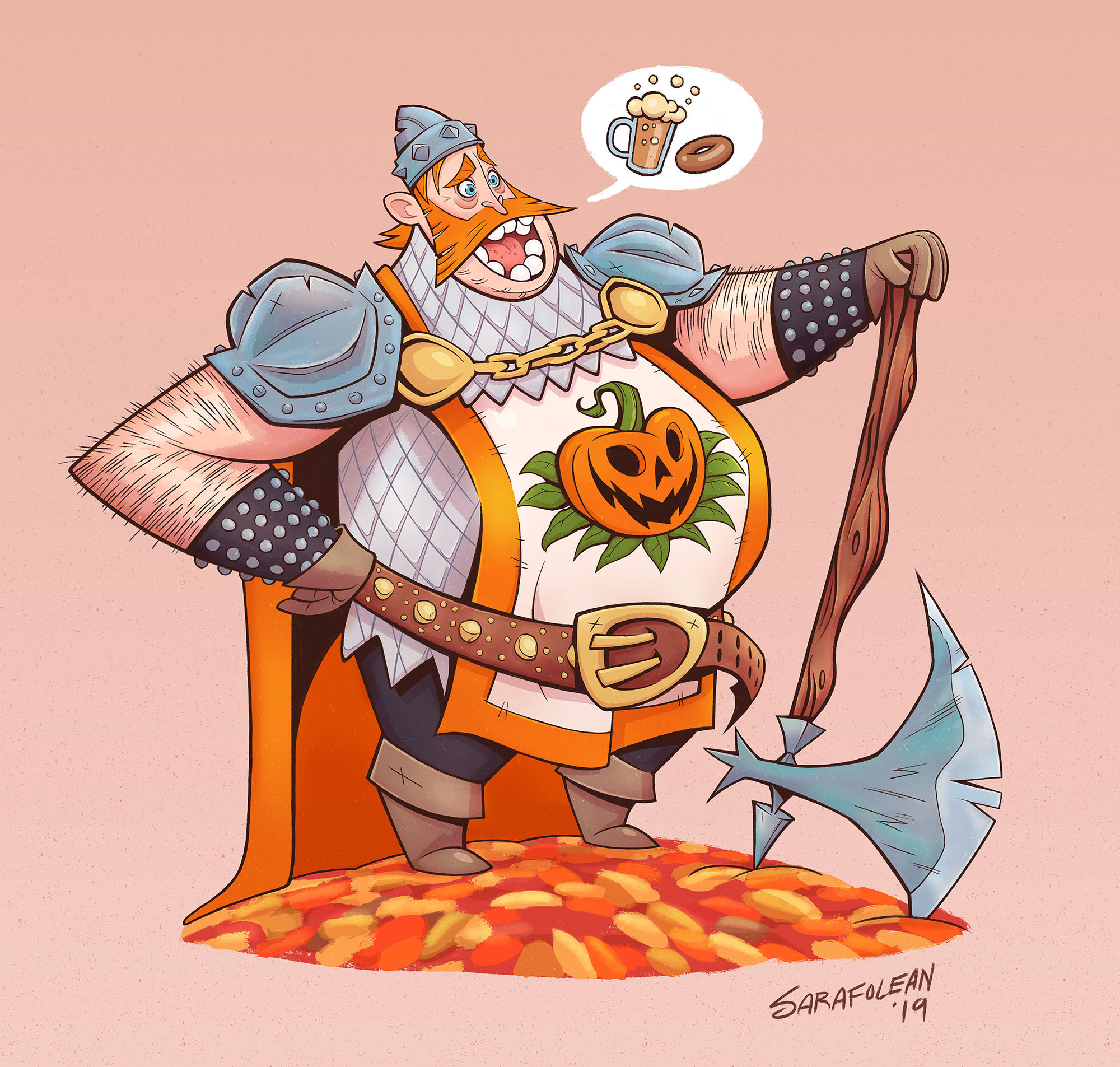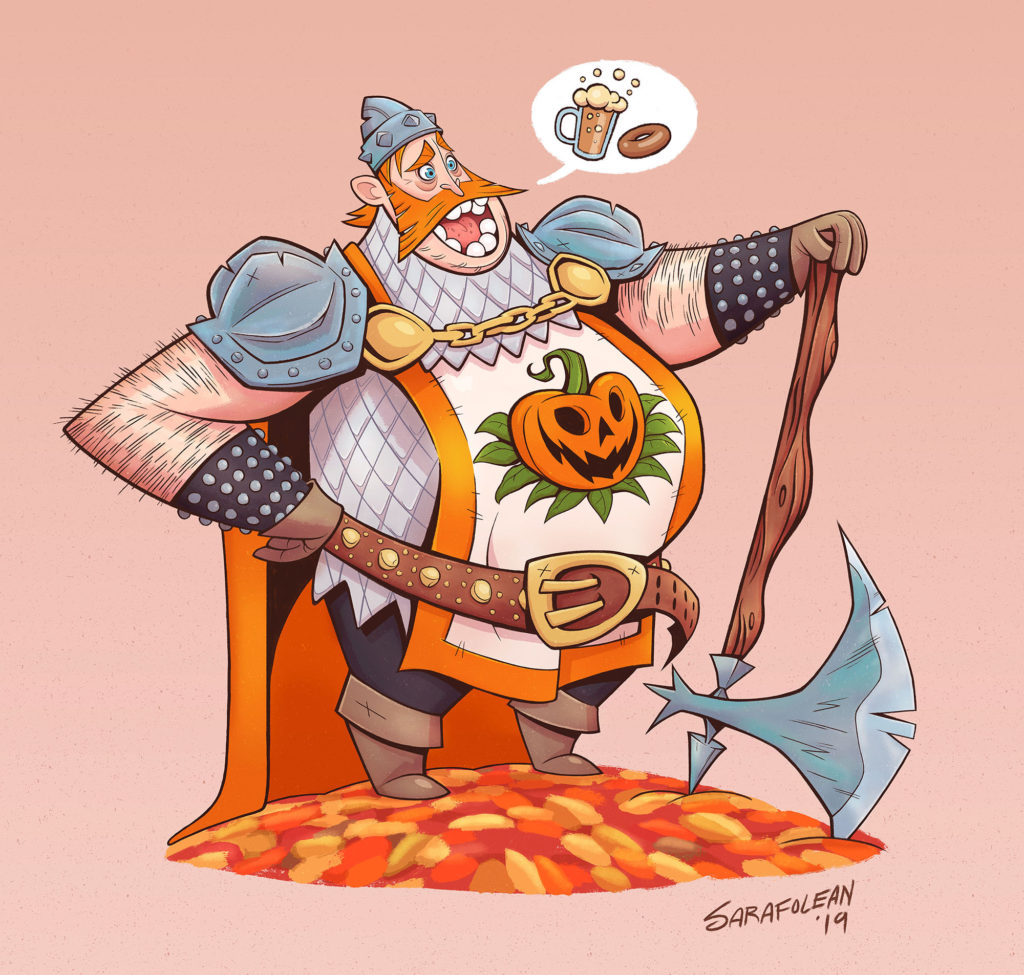 Baseei sua personalidade na forma da abóbora, que dá origem ao seu nome. Se você olhar para sua silhueta, verá que sua forma geral é redonda e rechonchuda, como uma abóbora. Ele também tem motivos em seu design, como os sulcos nos bicos redondos dos ombros, as pequenas formas de folhas na parte inferior da cota de malha e o cabo ondulado do machado, que lembra o formato de uma abóbora, suas folhas e galhos. A paleta de cores laranja e verde que usei foi um vínculo claro e intencional entre o cavaleiro e uma abóbora.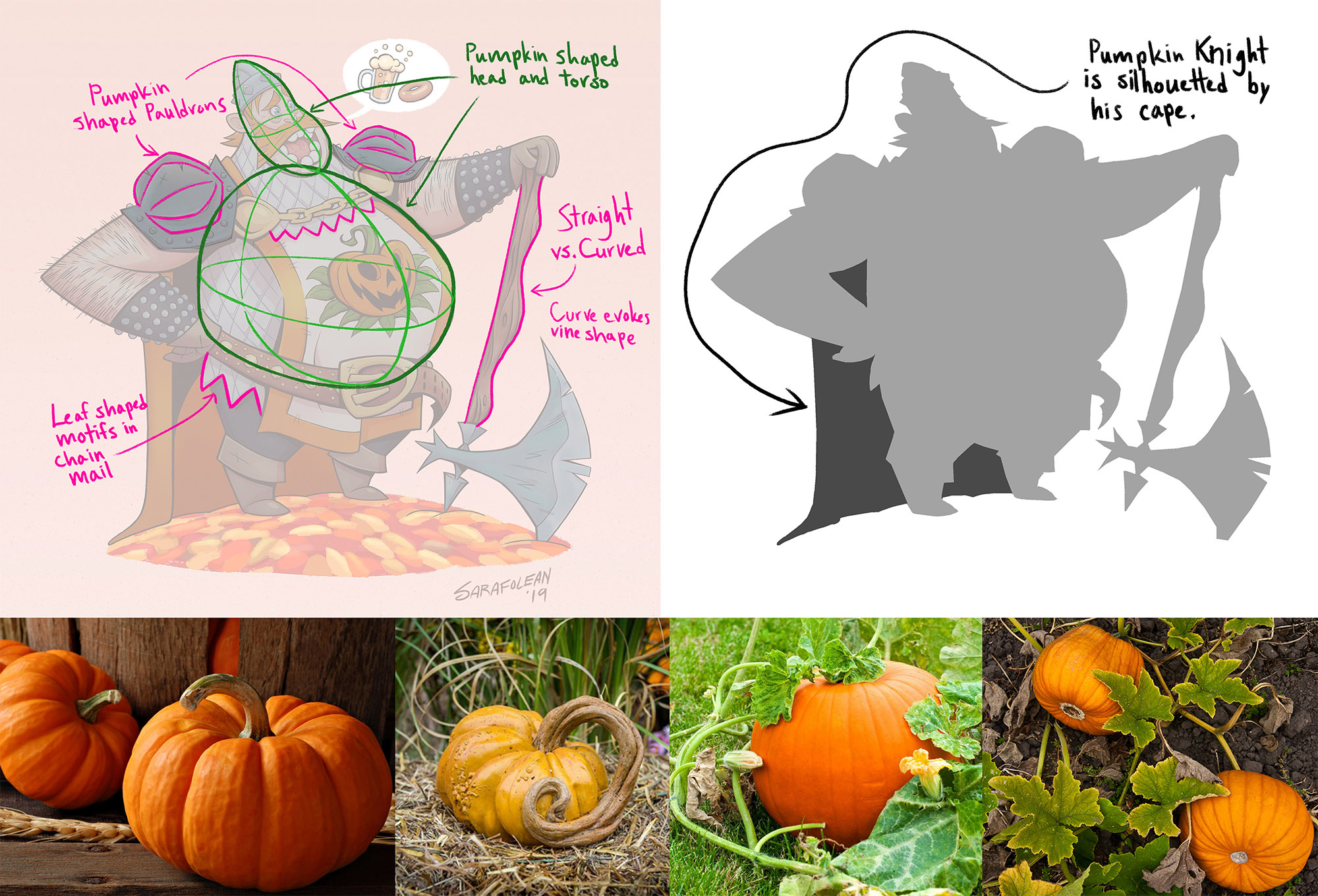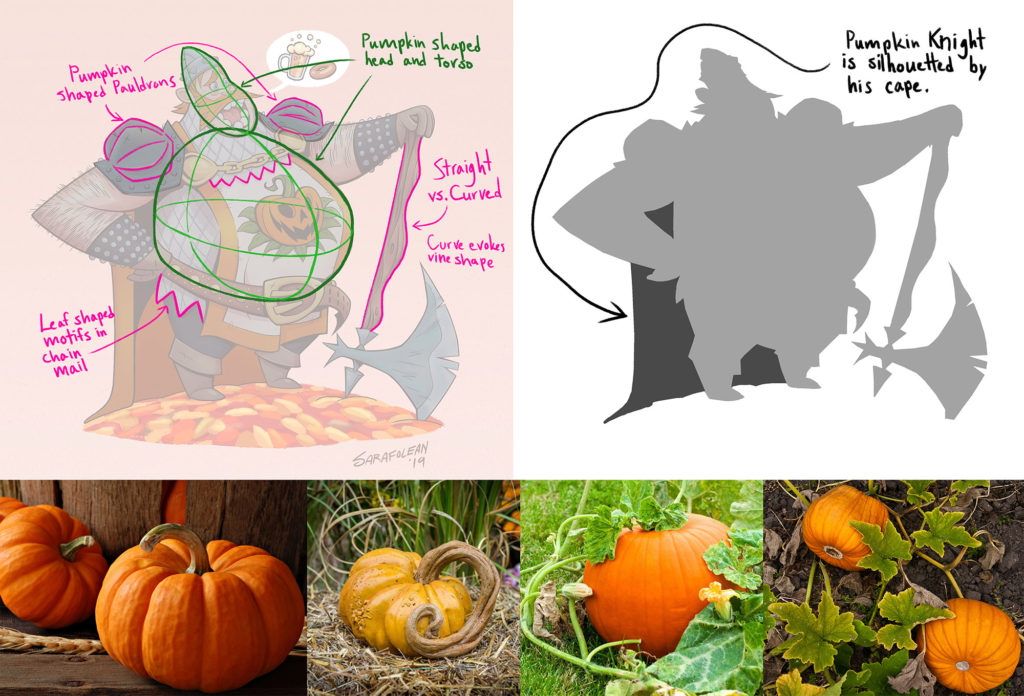 Uma das dicas que Nate (Nate Wragg) deu foi garantir que os dois braços do cavaleiro estivessem afastados o suficiente de seu corpo para que pudessem ter boa leitura na forma de silhueta.
Ele também me fez empurrar o machado um pouco mais longe do corpo dos cavaleiros para dar a ele algum espaço confortável na pose. Um conselho de Nate que me lembro é que você pode enquadrar a silhueta de um personagem contra uma capa ou até enquadrar os membros de um personagem em seu próprio corpo. Contanto que você evite tangentes, sua silhueta ficará clara.
Character Line Up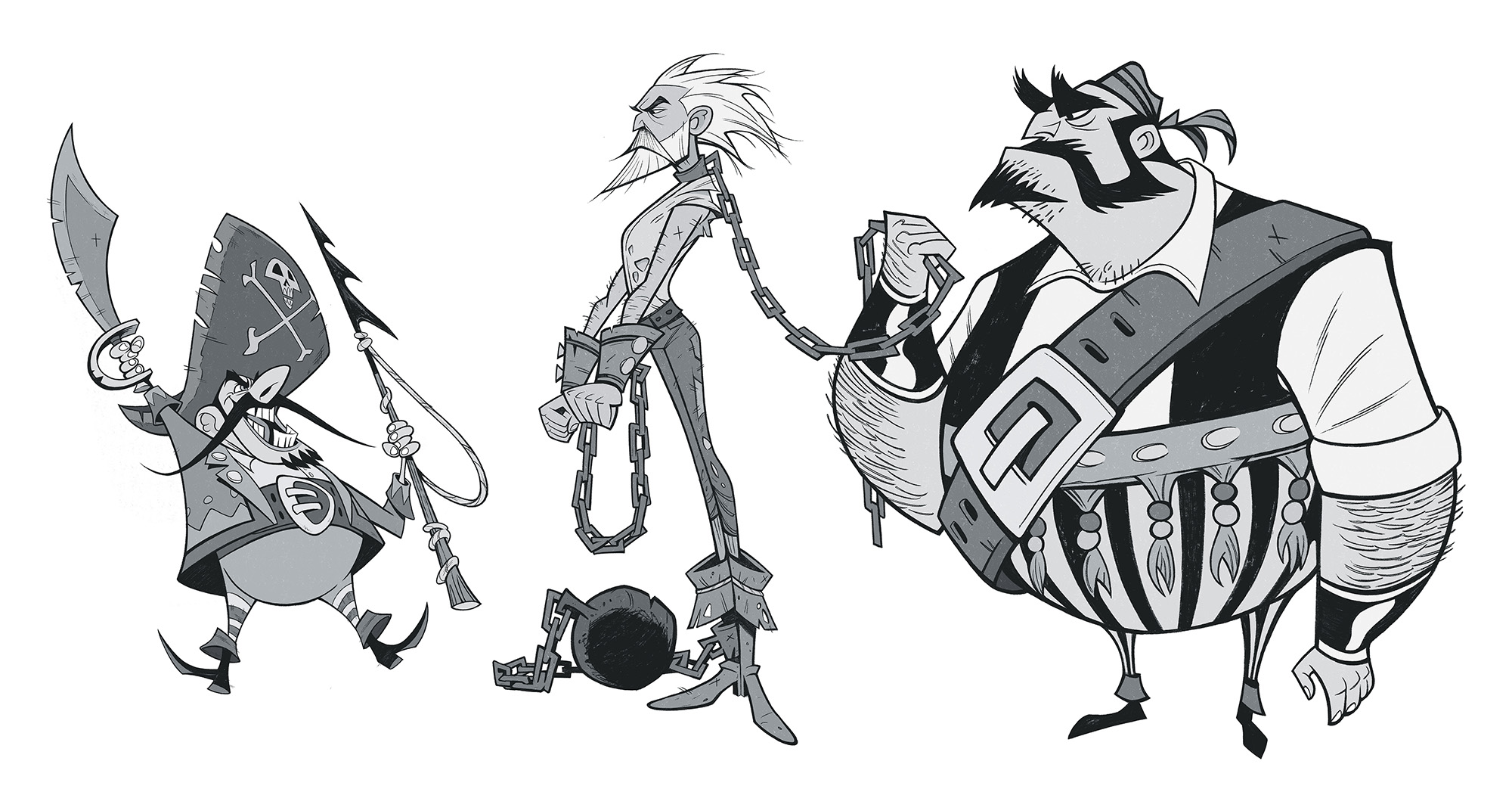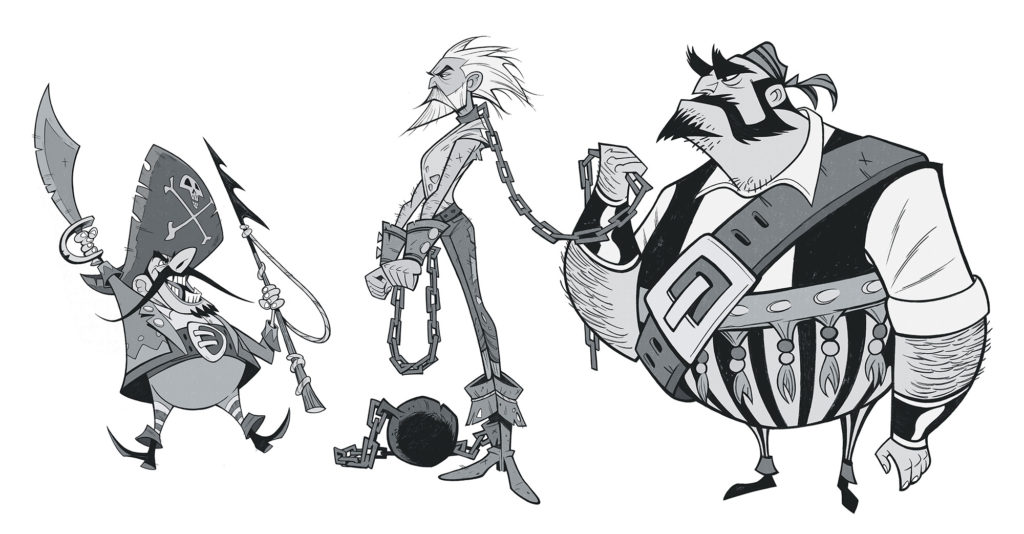 Essa tarefa era produzir o "Character Line Up" de três piratas, criando um elenco diversificado de personagens únicos.
Decidi contar uma história em meus projetos, tendo todos os três personagens interagindo entre si. A história gira em torno da captura de um velho que está acorrentado. Eu o chamo de "The Prisoner".
Ele é seguro de si e desafia seus captores, notado por sua postura ereta, com o peito esticado e os ombros para trás, enquanto olha ferozmente para o inimigo. Apesar de suas correntes e suas roupas esfarrapadas, ele se comporta com dignidade e força, como se pudesse novamente ganhar vantagem. As longas e elegantes linhas no corpo e nas pernas de The Prisoner evocam uma elegância em seu físico, mas essa suavidade é contrastada pelas formas triangulares afiadas em seus cabelos e barba selvagens, que falam da resiliência de seu comportamento frio.
O próximo personagem é o "captor". Eu o chamo de capitão do foguete. Ele é pequeno, mas feroz, com um bigode extravagante e um chapéu enorme, que parece ser sua maneira de compensar a falta de altura. Ele a usa para reforçar sua personalidade com fome de poder.
Ele carrega um cutelo e arpão entalhado para fazê-lo parecer mais ameaçador, embora ele não seja realmente um lutador, como indicado por seu pequeno físico em forma de pêra. Ele está pulando no ar, com alegria perversa, como se tivesse fogos de artifício que disparam nos calcanhares de suas botas enquanto ele caminhava. Eu imagino que ele salte para cima e para baixo e se mova em rajadas rápidas como um pequeno pássaro feroz.
Você verá triângulos repetidos em seu design, desde suas botas pontudas, suas armas até as pontas afiadas do bigode. Essas formas afiadas reforçam sua agressão e volatilidade.
O terceiro personagem é o que eu chamo de Músculo. Ele é a força bruta por trás do cérebro do capitão do foguete. Ele é grande e rotundo, com longos e poderosos braços de gorila e está convenientemente do outro lado das correntes do Prisioneiro. Ele tem uma sobrancelha espessa e pesada, que ajuda a indicar sua personalidade maligna e de pura brutalidade. Ele é grande, mas pode ser enganado por um oponente astuto. Sua grosseria e tamanho contrastam fortemente com o prisioneiro magro e a pequena estatura do capitão, de maneira a enfatizar sua considerável força.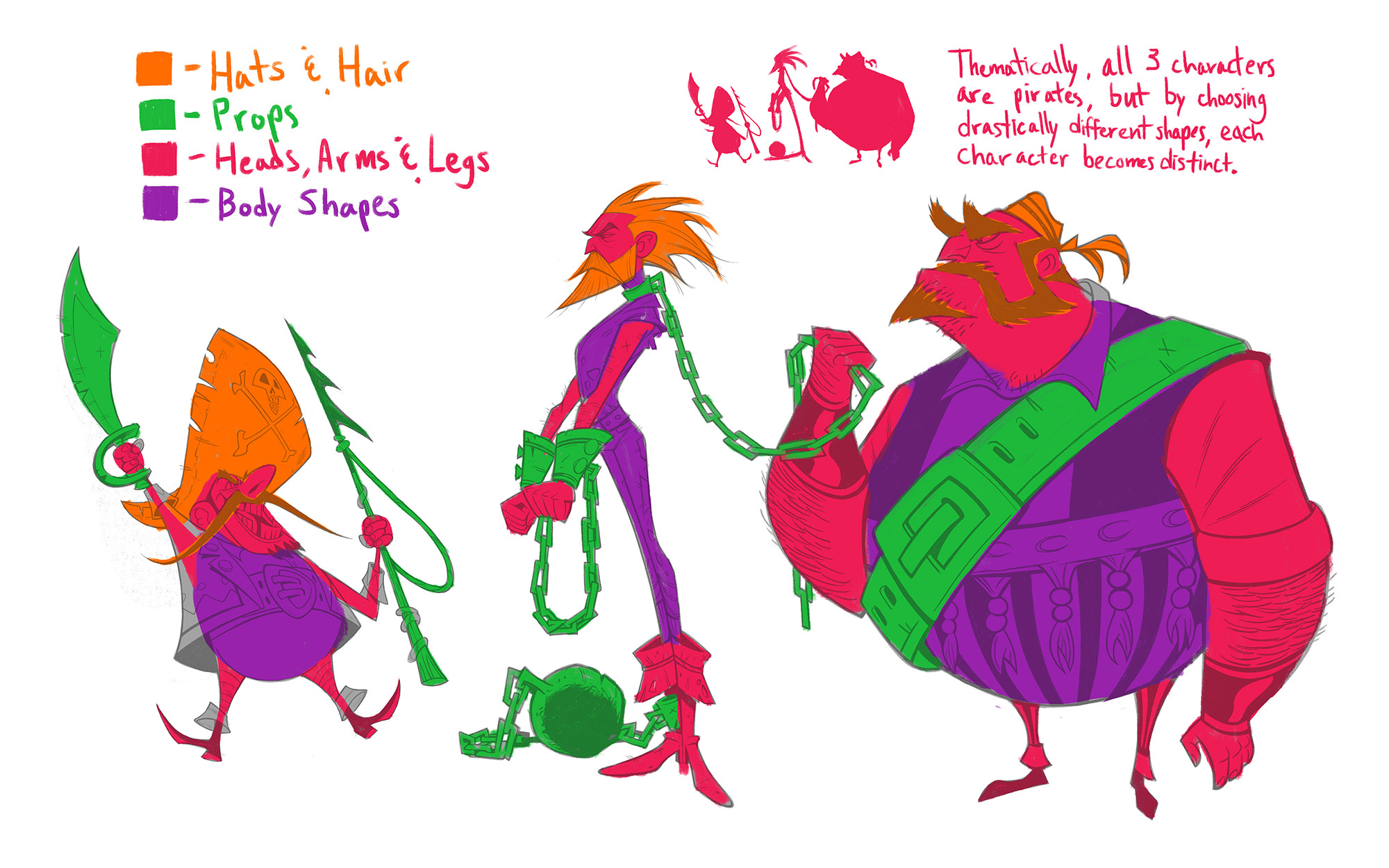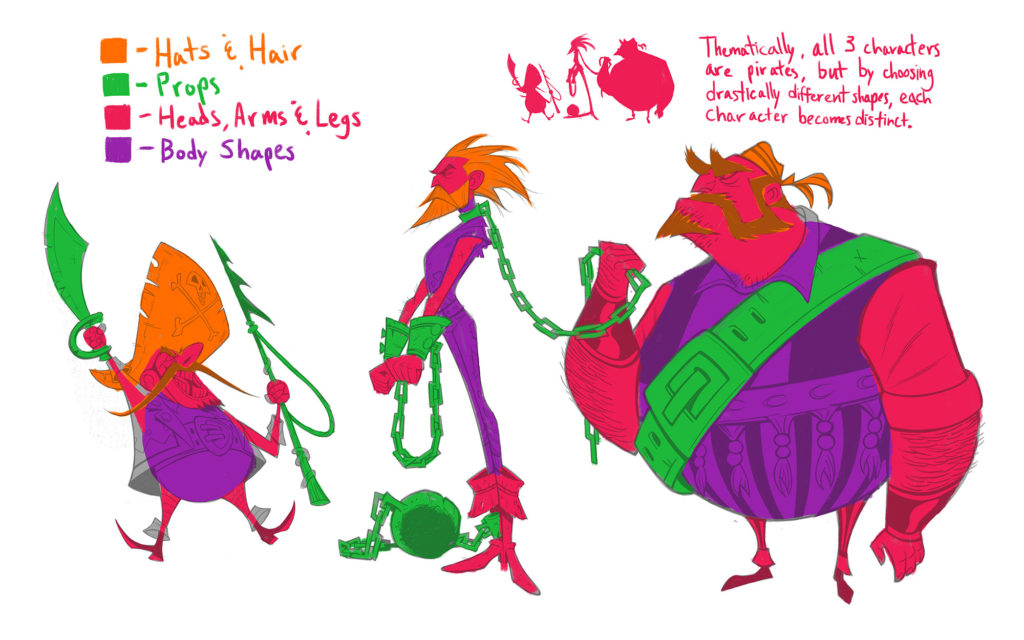 Para criar uma linha de personagens (um character line up) de sucesso, estipulei como missão criar três personagens que se encaixam no mesmo mundo, mas que são distintamente únicos um do outro. Consegui isso criando projetos que são tematicamente semelhantes, ou seja, todos eles são piratas, no entanto, baseados em diferentes formas de linguagem e personalidades distintas.
Ampliando o contraste entre seus tamanhos e formas, e escolhendo poses para cada uma que enfatize sua reação a essa situação, terminamos com uma linha de três personagens únicos e interessantes, cujos desenhos contam a história da captura do prisioneiro.
Traduzindo um estilo
Nesta tarefa, fomos incumbidos de criar um design de personagem para um dragão no estilo de dois artistas icônicos: Ronald Searle e Jay Ward. Eu escolhi desenhar um dragão que está relaxando enquanto bebe um coquetel verde venenoso e fuma um cigarro em sua elegante piteira. O dragão é suave e bastante contente, com nada a fazer além de se divertir em um bar esfumaçado.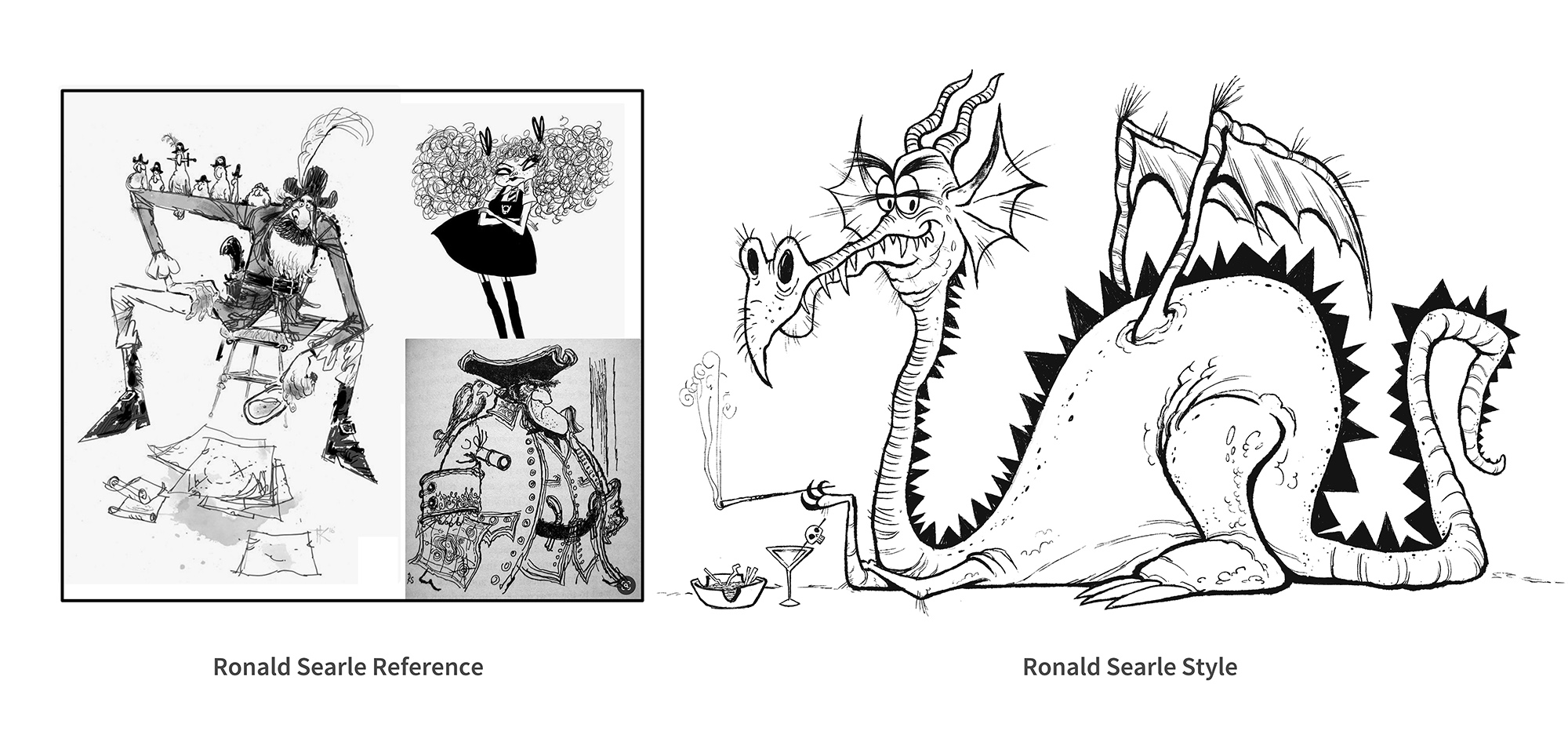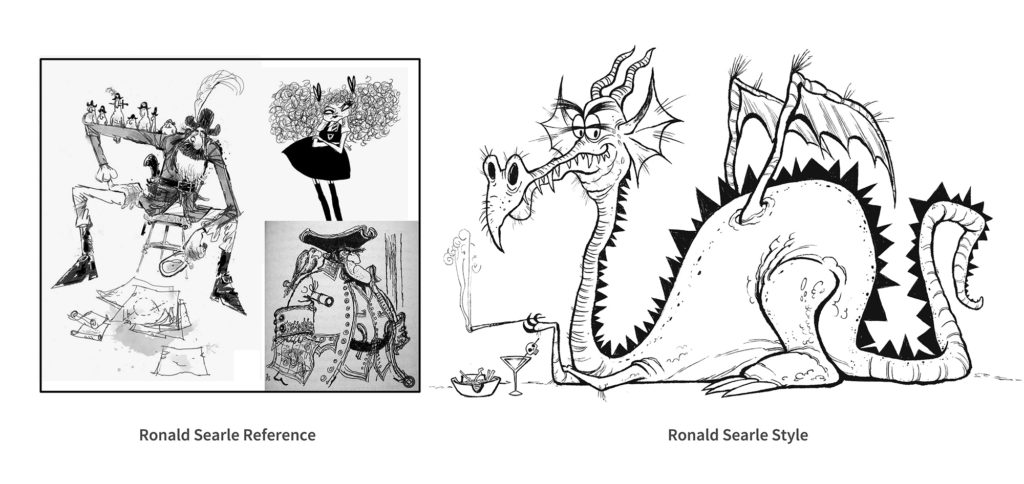 O primeiro passo foi quebrar os elementos-chave do estilo de ambos os artistas antes de tentar desenhar meu personagem. O principal marcador do estilo de Searle é sua linha de tinta áspera e oscilante e que ele normalmente trabalha com tinta nanquim. Ele tende a usar muito contraste, sobrepondo linhas pesadas de tinta ao lado de linhas delicadamente finas e colocando formas grandes ao lado de linhas minúsculas.
Por exemplo, ele pode desenhar um personagem com um corpo grande, com membros pequenos e delicados. Searle também desenha olhos fechados e bulbosos com muitas rugas ao seu redor. Eu achei a oscilação no trabalho de linha de Searle e sua bagunça um desafio. Eu tenho uma linha muito controlada e limpa, então a folga do estilo de Searle demandou algum tempo de prática para eu replicar.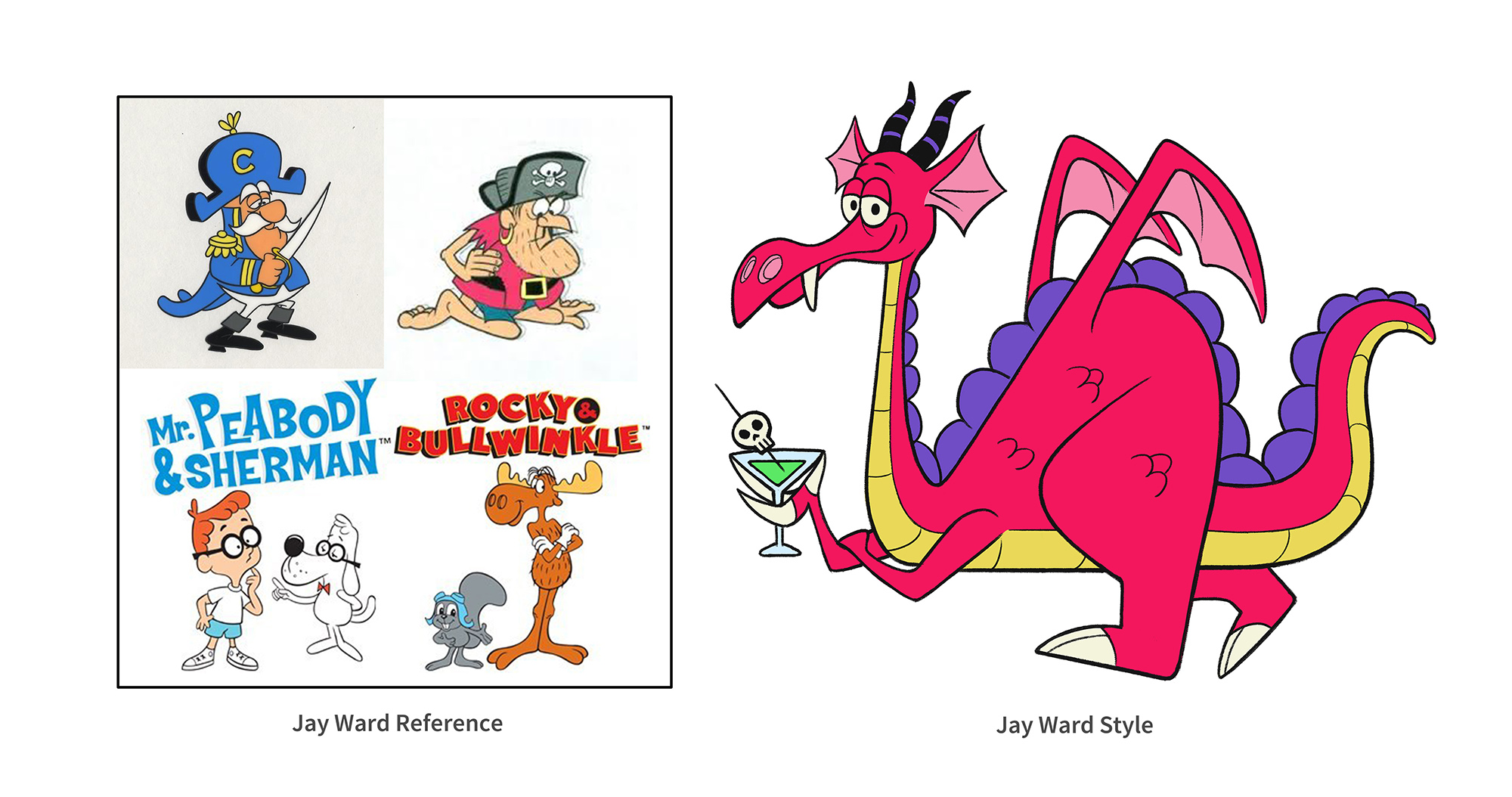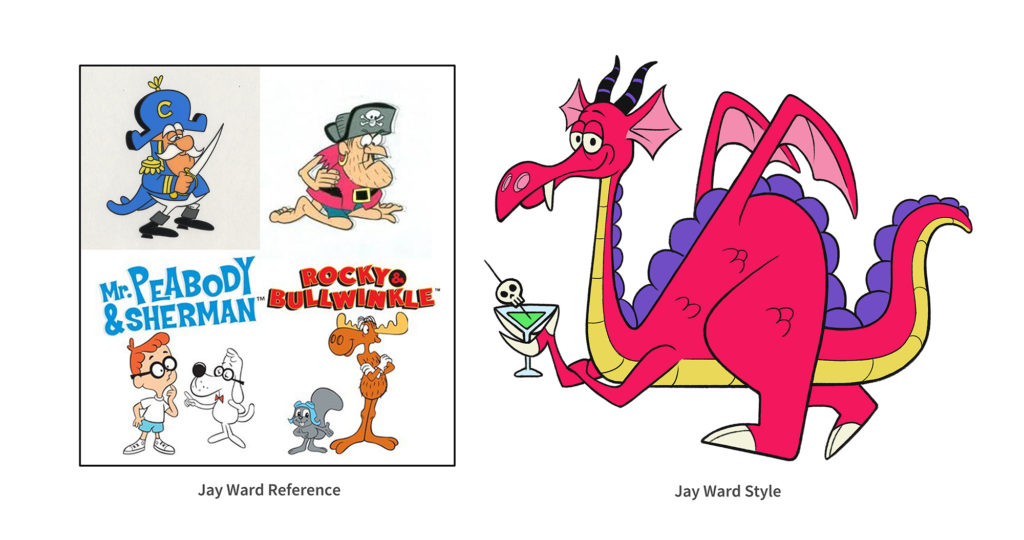 O estilo de Jay Ward veio mais rapidamente para mim. O principal marcador de seu estilo é a simplicidade de sua forma e a economia de sua linha. Ward tem uma linha limpa e rápida, que define os desenhos de seus personagens. O peso da linha de Ward tende a ser uniforme, limpo e mínimo, e seus personagens são classicamente caricaturados. Seus personagens têm quatro dedos em uma mão e têm olhos grandes e redondos, com um ponto para a pupila. Ele usa um esquema de cores simples nos desenhos de seus personagens, geralmente com apenas 3 a 4 cores por personagem. Seu estilo é gráfico e conta com formas e detalhes icônicos para minimizar o trabalho com as linhas e facilitar a animação desenhada à mão.
Design de Animais
A tarefa para a semana era projetar um personagem animal. Eu escolhi desenhar uma cacatua vilã e amarrá-lo com os personagens da minha linha de piratas. Esse projeto acabou se tornando uma grande parte do meu portfólio e adicionei muitos personagens e acessórios a partir deste mundo, mas um dos meus favoritos ainda é esse pássaro traquina.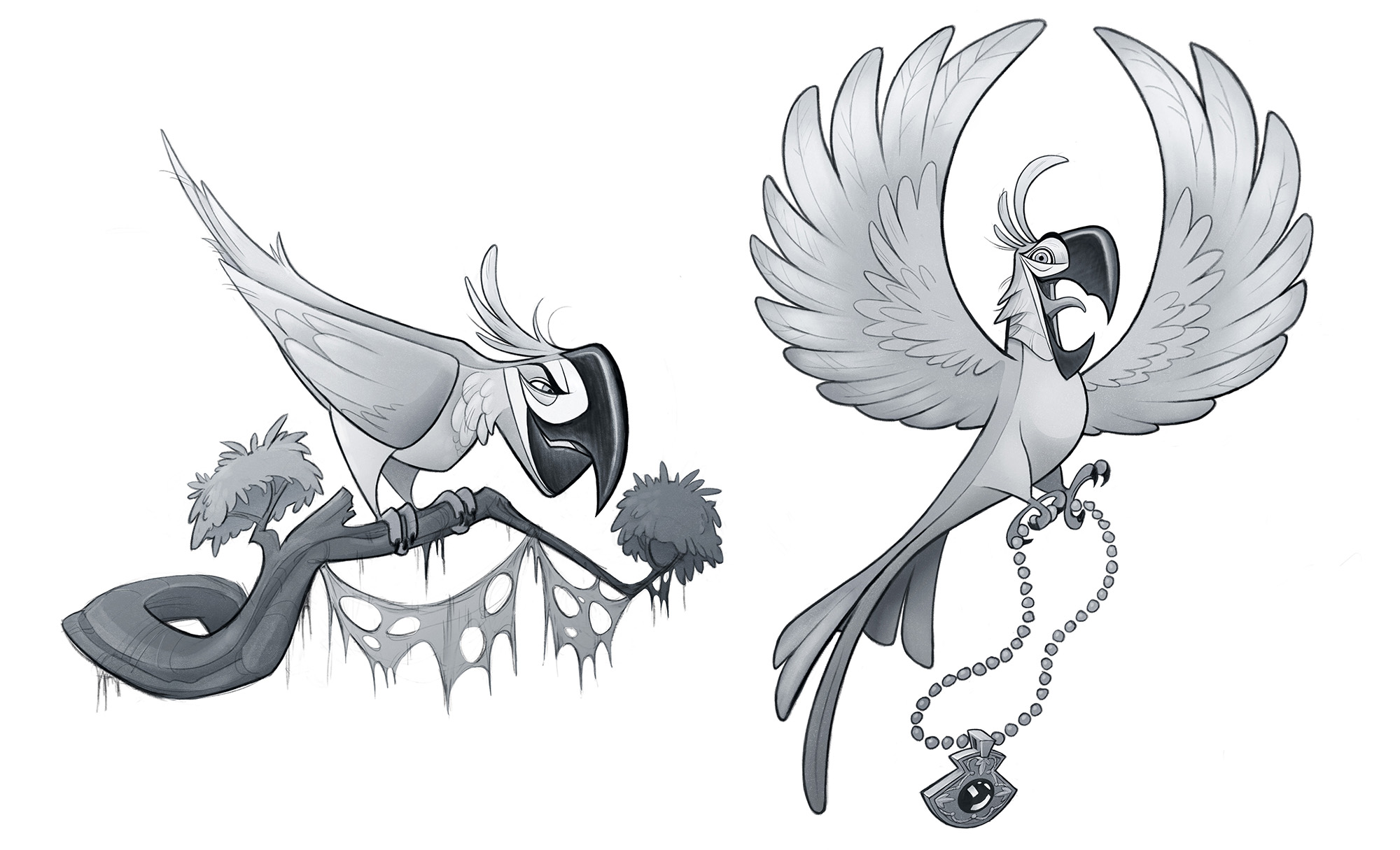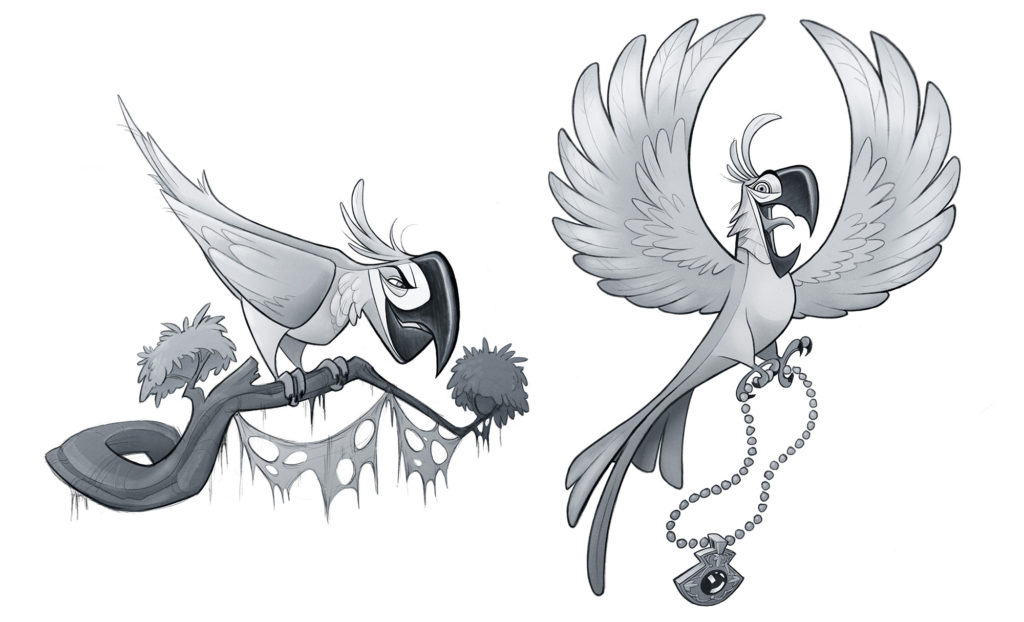 Meu objetivo com esse personagem era criar um companheiro irritante para o principal vilão pirata. A cacatua em si é mais um espinho no lado do herói do que um perigo. Ele é um tanto intrigante e problemático, mas nunca representa uma ameaça imediata. Eu queria criar um personagem astuto, que pudesse facilmente espionar e provocar nossos personagens heróicos, mantendo-se em segurança fora do alcance deles. Como esse personagem de cacatua é praticamente inofensivo, mas é uma praga maliciosa e ardilosa, eu escolhi usar uma linguagem principalmente redonda e macia em suas asas, corpo e penas, enquanto pontuava seu design com formas triangulares, estrategicamente afiadas em seu bico e garras. Eu pretendia criar um personagem com uma proporção de 80/20 de forma arredondada e triangular.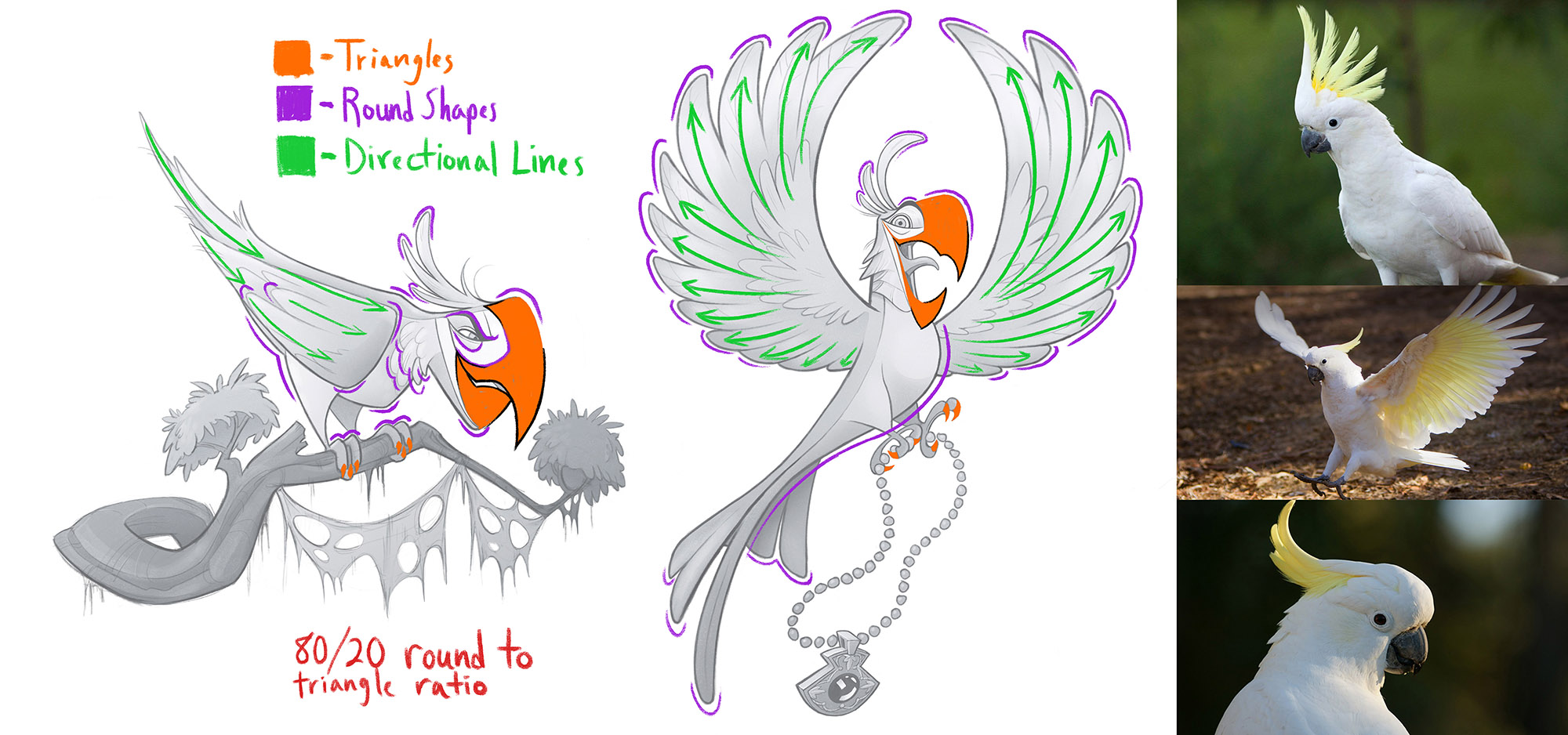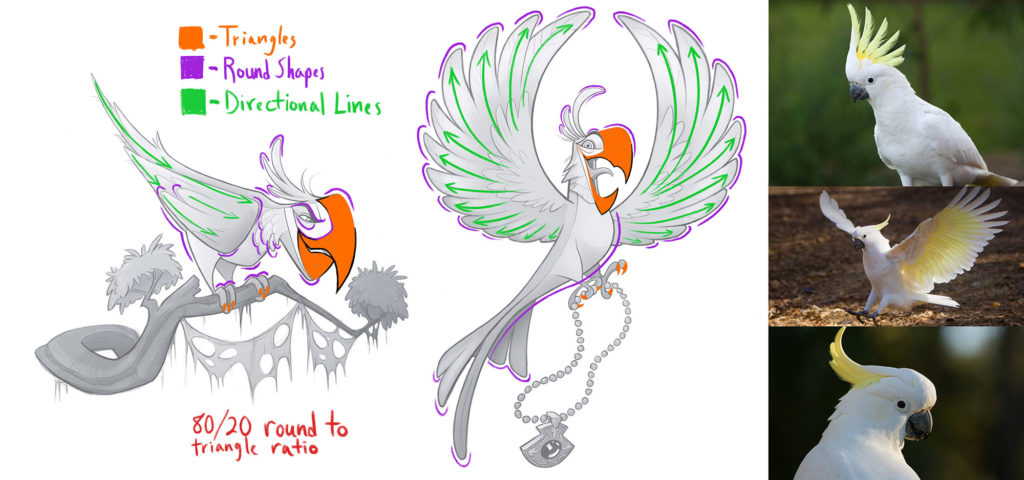 Na pose em que ele está nos galhos da árvore, ele está espiando silenciosamente nosso herói, enquanto trama sua emboscada. Eu queria afinar sua pose e usar uma linha de ação clara para mostrar o momento de antecipação antes de um ataque. Sua silhueta é suave e simplificada para mostrar a direção de sua atenção e apontar o foco da câmera para onde ele está olhando.
Na pose em que ele está voando, carregando o amuleto, é um momento da história imediatamente após a primeira pose que eu desenhei, quando ele se aproxima e pega o amuleto encantado de nosso herói, para sua grande consternação.
A cacatua está muito feliz neste momento e eu queria que as penas em suas asas formassem um formato em U radial, que para mim simbolizasse triunfo ou explosão de ação ou sucesso. O contraste nesse personagem vem da cuidadosa proporção de formas redondas e nítidas em seu design e no contraste entre sua pose fechada no primeiro desenho versus a explosividade de sua pose aberta no segundo desenho.
---
Considerações finais
Quando decidi seguir a faculdade de arte, enfrentei um dilema. Eu já tinha um diploma de bacharel e voltar para a faculdade tradicional para um mestrado ou outro diploma de quatro anos não parecia o caminho certo para mim.
Eu precisava preencher as lacunas no meu conhecimento existente e precisava de feedback profissional que me ajudasse a levar minhas habilidades artísticas para o próximo nível, mas não queria me trancar em um rígido programa da faculdade ou assumir o custo maciço de uma renomada escola de arte tradicional.
Quando descobri o programa de design de personagens 2D da CGMA, parecia o ajuste perfeito para mim. As aulas eram ministradas por profissionais veteranos experientes e atuais do setor, e eu podia encaixar as palestras e trabalhos de casa em torno da minha agenda de freelancers. Na minha opinião, o preço era justo e razoável para pagar por uma educação artística de alta qualidade!
Uma das primeiras aulas de CGMA que participei foi o curso de Design de personagens para animação de Nate Wragg. Eu estava interessado neste porque sou fã do trabalho de Nate há muito tempo e tenho uma grande consideração por sua experiência como designer de personagens talentoso e como diretor de arte experiente.
Nesta aula, aprendi como criar desenhos que funcionariam para animação 2D ou 3D e também como adaptar minhas habilidades de desenho e design para trabalhar em vários estilos de arte diferentes.
Os desenhos que Nate faz sobre os trabalhos (draw over), são provavelmente os melhores que já tive em qualquer classe. Ele tem a capacidade de ver qual é a intenção de um design e sabe como identificar o que precisa ser alterado para fazer uma melhoria tangível a um design. Suas anotações sobre a postura dos personagens e a clareza da silhueta me permitiram identificar tangentes em meu próprio trabalho.
Sua ênfase na compreensão e no uso de contraste em todos os elementos de um design tem sido um passo fundamental para que eu domine meu ofício. Sua turma me deu um controle maior sobre o que eu sou capaz de comunicar usando minhas habilidades de design e desenho e me tornei um artista melhor em geral. Um investimento em educação artística de 10/10!
Você pode ver mais da arte de Kyle em seu site: https://sarafoleank.myportfolio.com/work