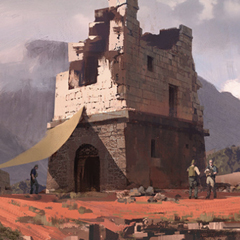 Hoje trazemos mais uma série de incríveis artes criadas para o game Uncharted 4, do estudio Naughty Dog. Desta vez destacamos os trabalhos do artista Nick Gindraux, que também produziu belíssimos concept arts para The Last of Us. Visite a página do artista no Artstation para conferir todos os seus trabalhos.
Inspiradoras as pinturas digitais do artista Shaddy Safadi. Shaddi é formado em Ilustration/ Entertainment Design pelo Art Center College, em Pasadena. Foi senior concept artist no estúdio Naughty Dog de 2006 a 2011, onde trabalhou na franquia Uncharted. As artes que apresentamos abaixo são de suas aulas de Digital Plain Air (pintura digital ao ar...
Apesar de 3D ser bastante comum atualmente, não são todos os artistas que se dão bem com isso. Me incluo nessa categoria. Para esses, o SketchUp faz bem seu papel. É simples, intuitivo, rápido e free (a versão standard pelo menos). Para os muitos que ainda acham que SketchUp só serve pra fazer fazer predinhos...