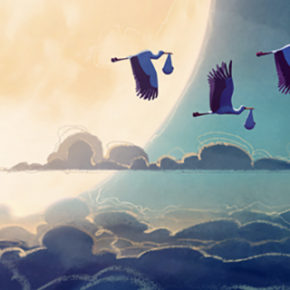 O que seguem são algumas ótimas artes compartilhadas pelo artista Paul Lasaine (The Boxtrolls, Puss in Boots, Surf's Up).  As artes foram todas criadas para Storks, filme do estúdio Warner Animation Group, lançado em 2016. Confira!
Trazemos hoje mais um pouco da bonita arte desenvolvida pra o filme The Book of Life, da 20th Century Fox e Reel FX. O artista em destaque desta vez é Shane Richardson, que também participou da produção do filme "Birds", da mesma produtora Reel FX.
Dois perus, Reggie e Jake, em uma missão espetacular: acabar com o costume de comer perus no thanksgiving. Para isso eles irão voltar no tempo, até a data do primeiro dia de ação de graças, para tentar reverter essa tradição. Essa é a história de Free Birds, longa em CG dirigido por Jimmy Hayward, de Horton...