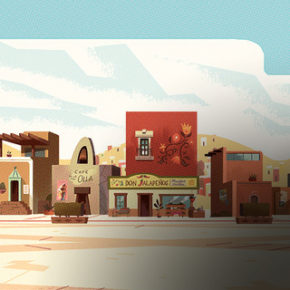 Os irmãos Justin e Josh Parpan, também conhecidos como "Parpan Creative" (DuckTales, Big Hero 6: the series, Gravity Falls, Mickey Mouse Shorts, Star vs. the Forces of the Evil, e outros), compartilharam diversas artes criadas para a série Victor and Valentino, do canal Cartoon Network. Visite Parpan Creative e conheça todos os incríveis trabalhos e toda a equipe de artistas...
Hoje destacando mais alguns cenários criados por Justin Parpan para novos episodios da série DuckTales, exibido no canal Disney. Caso você ainda não tenha visto, reserve alguns minutos e confira nossos posts anteriores onde destacamos outros artistas que trabalham em DuckTales, como Josh Parpan, Janine Chang e Fabien Mense.
Apresentamos hoje mais uma sequência de artes produzidas para o curta "O Sole Minnie", da série Mickey Shorts. Na sequência, confira o curta completo, divulgado no canal do Youtube do estúdio Walt Disney Bélgica.