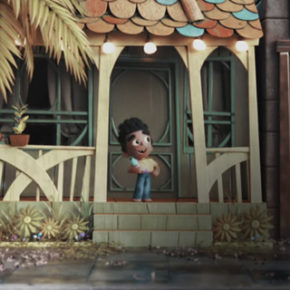 In my heart é um "music video" criado para o artista Ron Arts II , que lançou recentemente seu novo álbum "Love is Love".  A animação é do estúdio "Flooul Animation", mantido por Pedro Conti e Fernando Peque, responsáveis pela direção e produção. Lindo trabalho!  Confira: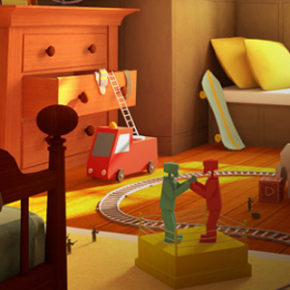 Hoje destacando os trabalhos de previsualização 3D (3D previz) criados pelo artista David Huang para o filme The Boss Baby, do estúdio DreamWorks. Visite o site de Huang e conheça muito mais de seu portfolio, como os trabalhos para os filmes Rocky & Bullwinkle, Penguins of Madagascar e outros.  Ah, e se você ainda não viu os posts anteriores de Boss Baby , não perca mais essa chance....
Trazemos hoje mais um pouco da arte produzida pelo time de desenvolvimento do filme Coco, dos estúdios Disney-Pixar. Abaixo você confere os trabalhos de character design da artista Zaruhi Galstyan, publicados originalmente em sua conta do Instagram. Confira!
Hoje destacamos os trabalhos criados pelo artista Thomas Reteuna para o filme Despicable Me 3, do estúdio Illumination Entertainment. Thomas é creditado como set designer nesta produção. Visite o Tumblr para conhecer mais coisas legais produzidas pelo artista.
Pig Goat Banana Cricket (Porco Cabra Banana Grilo) é uma série em animação criada por Dave Cooper e Johnny Ryan para o canal Nickelodeon. É exibido nos Estados Unidos e Canadá desde o ano de 2015 , e desde novembro de 2016 no Brasil. As artes abaixo são de Jennifer Wood, character designer no show....
O artista Ryan Lang (Wreck-It Ralph, Moana, Big Hero 6) postou e seu website uma seleção de concept arts criadas por ele para o filme Moana, do esúdio Walt Disney Animation. Belíssimas pinturas. Confira!
Hoje damos destaque aos trabalhos de Desenvolvimento Visual do artista Chin Ko (Hotel Transylvania 2, Madagascar 3, Penguins of Madagascar, Megamind, How to Train your Dragon),criados para o filme Trolls, da DreamWorks Animation. Visite o site de Chin Ko para conhecer mais sobre sua carreira e trabalhos.
Hoje trazemos uma seleção de trabalhos de Background Design que o artista Joseph Holt criou para o seriado El Tigre: The Adventures of Manny Rivera, criado por Jorge R. Gutiérrez e Sandra Equihua, e exibido no canal Nickelodeon entre os anos de 2007 e 2008. Confira:
Abaixo trazemos as bonitas ilustrações do artista francês Pierre Laloge, criadas entre 2008 e 2009 para o seriado The Mysteries of Alfred Hedgehog (em francês e Inglês). A série foi produzida pela Gaumont/Alphanim e exibida pelos canais TFO e TVO, no Canadá, e Discovery Kids, nos Estados Unidos.