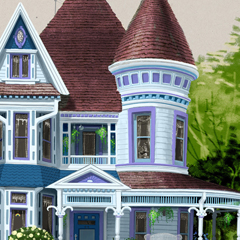 Abaixo você confere vários designs criados pelo artista John Bell para a série Troll Hunters, de Guillermo del Toro. Visite o website de John e veja muito mais de seu portfolio, que inclui trabalhos para os filmes Penguins of Madagascar, Skull Island:Kong, Jurassic Park: Lost World e Car2, apenas para mencionar alguns.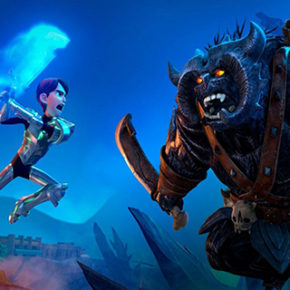 Com plataformas de streaming investindo bilhões em conteúdo original, a demanda por conteúdo tem sido maior do que nunca. De acordo com o site Digital News Daily, o aumento da verba de vídeo da Amazon confirma a tendência de companhias de internet entrando forte no ramo de mídia. A Netflix espera gastar por volta de 8...
Faça uma pesquisa visual do assunto desejado: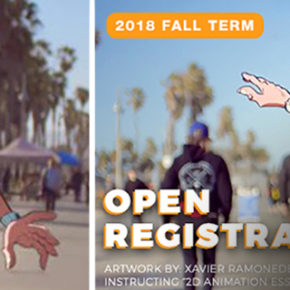 Já estão abertas as matrículas para os cursos de Outono 2018 na CGMA! A CGMA está continuamente expandindo sua grade, que atualmente passa de 90 cursos de alta relevância para a indústria, ministrados por mais de 100 profissionais de renomados estúdios. Todos  os cursos são bastante acessíveis, atingindo mais de 75 países. E neste termo, foi ampliado...
Mais uma vez nós compartilhamos por aqui alguns bonitos cenários de Tangled the series, pintados pela artista Laura Price, background painter no estúdio Disney Television Animation. Você pode ver muito mais visitando o Tumblr da artista. Confira!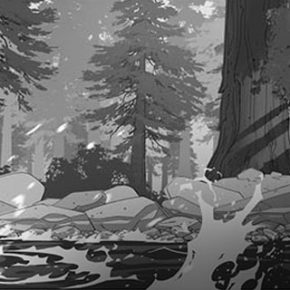 Hoje destacando vários background layouts de Big Hero 6: The Series, do Disney Television Animation, produzidos por Khang Lee, que também mostra em seu portfolio artes criadas para Turbo Fast (DreamWorks, 2013), Niko and the Sword of Light (Amazon, 2015) e Little Big Awesome (Amazon, 2015). Bem legal!  Confira: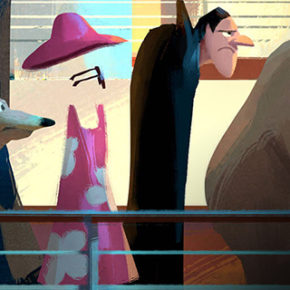 Trouxemos na semana passada algumas belas artes de Hotel Transylvania 3: Summer Vacation (Hotel Transylvania 3: Férias Monstruosas), filme da Sony Animation, que segue fazendo um grande sucesso nos cinemas. Hoje apresentamos novos trabalhos produzidos para HT3, dessa vez dando destaque para os artistas Naveen Selvanathan, Aurélien Predal, Nacho Molina e Scott Wills. Veja as imagens logo...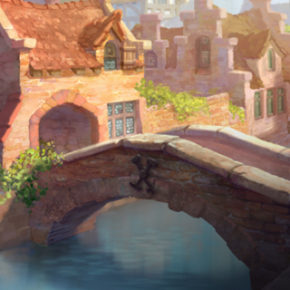 Noëlle Triaureau, production designer/art director no estúdio Sony Animation, divulgou em seu site alguns lindos trabalhos criados para o filme Smurfs: the Lost Village.  Em seu portfolio, Noëlle também apresenta artes desenvolvidas na produção dos filmes Hotel Transylvânia e Surf's Up, ambos da Sony Animation.   Confira as artes logo abaixo e não deixe de visitar o site da artista....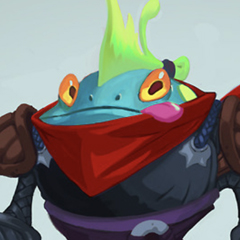 Hoje trazemos muitas outras concept arts criadas pelo artista Vinos Rams para o jogo Gigantic, do estúdio Motiga.  Infelizmente, em janeiro passado, em seu website oficial, o estúdio anunciou que os servidores seriam desligados em 31 de Julho deste ano.  Visite os posts anteriores para ver mais artes de personagens e ambientes do game Gigantic.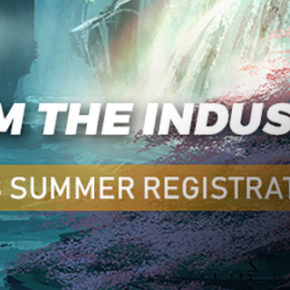 (ATUALIZAÇÃO: Matrículas encerradas!) Falta apenas 1 semana para se encerrarem as matrículas dos cursos de Verão 2018 na CGMA!  E para aqueles que ainda não se decidiram, vale lembrar que, pela primeira vez, os alunos poderão aproveitar o "1 YEAR EXTENDED ACCESS", que dá acesso ao conteúdo dos cursos por 1 ano após o seu término...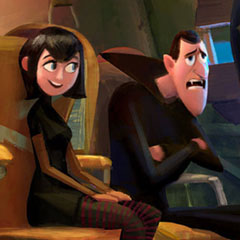 Mais uma produção Genndy Tartakovsky chega aos cinemas de todo o globo. Hotel Transylvania 3: Summer Vacation (Hotel Transilvânia 3: Férias Monstruosas), do estúdio Sony Animation, estreou recentemente, e como é de costume, temos o prazer de trazer alguns belos trabalhos criados pelo incrível time de arte. Hoje destacando os artistas David Alcarria, Miguel Gil, Nacho Molina, Scott Wills e Sylvain Marc. Por favor...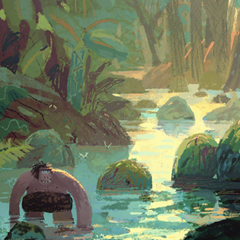 Hoje trazemos vários ótimos designs criados por  Aurélien Predal para o filme Early Man, produzido por Aardman , STUDIOCANAL e BFI.  E se você ainda não viu, não perca a chance de conferir nossos posts anteriores onde destacamos outros trabalhos de Aurélien Predal, como Popeye, Mune, A Monter in Paris e mais.
Vamos falar hoje sobre Deanna Marsigliese. A artista merece destaque por seus trabalhos em dois dos grandes filmes da Disney-Pixar: Inside Out e The Incredibles 2.  Deanna fez o design de diversos moradores da San Francisco de Inside Out, e mesmo não sendo os personagens principais, captam a diversidade do local. Em seu post no Tumblr, Deanna fala...