Destacamos hoje os trabalhos de Location Design criados pelo artista Ross Stewart para o filme ParaNorman, do estúdio Laika. No ano passado destacamos também as artes de Ross para Song of the Sea. Se ainda não viu, visite o post e confira. Conheça mais trabalhos de Ross em RossStewart.net
Cartoon Movie é um evento de apresentação de projetos de filmes de animação longa-metragem que tem como objetivo facilitar o contato entre produtores, investidores e distribuidores. No evento, os produtores têm a oportunidade de apresentar seus projetos para um grande número de potenciais parceiros de produção, financiadores e/ou distribuidores, além de conhecer agentes comerciais...
Faça uma pesquisa visual do assunto desejado:
Hoje em destaque, as artes criadas por Darek Zabrocki para o game Assassin's Creed Syndicate, do estúdio Ubisoft. Visite darekzabrocki.com e conheça outros trabalhos profissionais e suas galerias de artes pessoais e speed paintings. Confira:
Trazemos hoje uma nova galeria de trabalhos do artista Craij Shoji. Em destaque, concept arts produzidas para o filme Maleficent (Malévola), do Walt Disney Pictures. Confira!
Hoje trazemos uma seleção de concept arts criadas por James Clyne para Star Trek, de 2007, e Star Trek Into Darkness (Star Trek: Além da Escuridão), de 2013. Confira também no portfolio de Clyne as artes de Oblivion, Transformers, Ender's Game, Avatar e outras.
Aeee! Mais uma seleção sensacional de Star Wars por aqui. Dessa vez trazemos as Concept Arts criadas por Doug Chiang para o episódio I: A ameaça fantasma. As artes foram publicadas originalmente no livro Star Wars Episode I: The Phantom Menace Portfolio, lançado pela Chronicle books em 1999. Confira:
Trazemos hoje uma grande galeria com os character designs criados pelo artista Julien Le Rolland para o filme Mune: The Guardian of the Moon. Visite os posts anteriores para conferir mais artes de Mune.
Hoje organizamos uma série bem legal com mais de 20 peças de Concept Arts criadas por diferentes artistas para o filme Star Wars: The Force Awaken (Guerra nas Estrelas: O Despertar da Força). Os artistas que faze parte dessa galeria são James Clyne, Kevin Jenkins, Doug Chiang, Yanick Dusseault (Dusso), Iain McCaig, Andree Wallin, Thom...
Liberado o trailer número 2 de Zootopia, do Walt Disney Animation Studi. O filme estréia em março deste ano. Confira!
Hoje trazemos para destaque os trabalhos do artista Craig Shoji, já destacado aqui no THECAB em 2011 por suas artes para o filme Alice in Wonderland. Visite o website de Shoji e confira seu portfolio completo.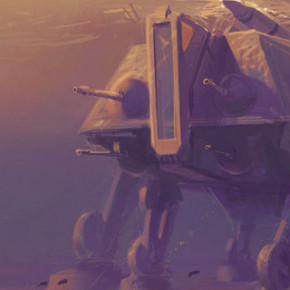 Nessa segunda galeria de aquecimento para Star Wars: The Force Awakens (Guerra nas Estrelas: O Despertar da Força), compartilhamos hoje mais algumas dezenas de artes produzidas pelo artista Ryan Church. Dessa vez as artes foram criadas para o filme Star Wars III: Revenge of the Sith (Guerra nas Estrelas III: A Vingança dos Sith).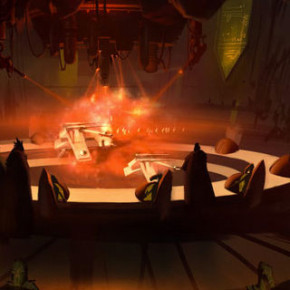 Star Wars: The Force Awakens (Guerra nas Estrelas: O despertar da força) está invadindo as salas de cinema por todo o globo. Então pensamos que seria legal trazer algumas artes dos filmes anteriores que ainda não foram destacados aqui no THECAB. Como a maior parte das artes de Star Wars: The Force Awakens ainda não podem...