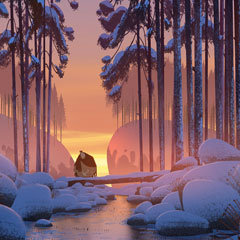 Se você, assim como nós aqui do THECAB, também ficou maravilhado ao assistir o trailer da animação de Klaus, novo projeto do SPA Studios, de Sergio Pablos, provavelmente vai gostar de conhecer  o artista responsável por alguns belíssimos cenários.  Seu nome é Szymon Biernacki. E hoje destacamos artes produzidas por ele para o game Age of Empires, bonitos trabalhos...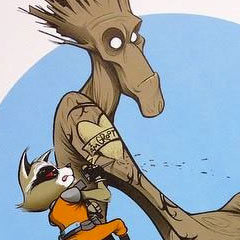 Hoje trazemos para os leitores do THECAB os incríveis trabalhos do artista Gustavo Duarte, criador das premiadas HQs Birds, Taxi, Có and Monstros.  As artes abaixo mostram um pouco do refinadíssimo traço de Gustavo e o belo estilo de seus personagens, e também algumas artes criadas para a edição Guardians of the Galaxy 100th Anniversary Special #1, da Marvel Comics....
Faça uma pesquisa visual do assunto desejado: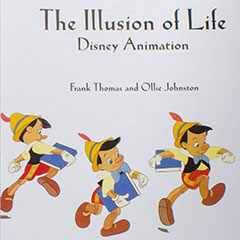 Se você já é animador ou já estudou animação, provavelmente conhece esses princípios, descritos originalmente no livro The Illusion of Life, de Frank Thomas e Ollie Johnston. Em uma série de 12 vídeos, o animador Alan Becker usa a própria animação para mostrar cada um dos 12 conceitos, de forma bem clara e didática. Alan é o criador da mundialmente conhecida série Animator vs Animation, lançada...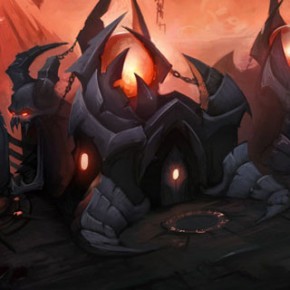 Hoje trazemos aqui para o THECAB os trabalhos criados por David Harrington para o game Heroes of the Storm. David atualmente trabalha como Senior 3D Artist no estúdio Blizzard Entertainment .  No final do post você pode ver também três exemplos do trabalho de David (muito bons por sinal) como artista 2D. Confira! (trabalhos pessoais / personal works) VISITE:  David...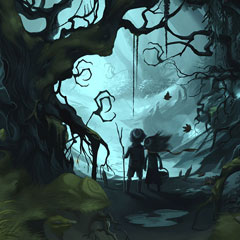 Destacamos hoje as bonitas artes criadas por Vanja Todoric para o game Fearful Tales – Hansel and Gretel, produzido pela Eipix Games.  Mais trabalhos de Vanja no Artstation. Confira: For English Speakers Today we feature the beautiful arts created by Vanja Todoric for the game Fearful Tales – Hansel and Gretel, produced by Eipix...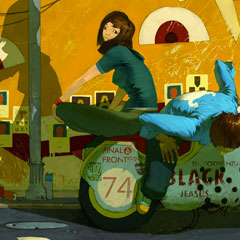 Vasili Zorin é um artista russo e estudou na St. Petersburg Academy. Hoje destacamos vários trabalhos produzidos por ele, que incluem backgrounds para animação, ilustração e quadrinhos, que parece ter bastante influência no seu estilo. Confira: Teaser trailer de Sabah, curta de Luca Vitale, Matt Carter e Vasili Zorin. Lindo, hein? Este é mais um curta...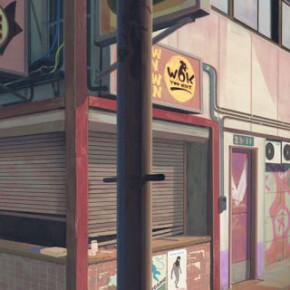 Hoje trazemos uma seleção de artes criadas para o game Sunset Overdrive, do estúdio Insomniac Games (Resistance,  Ratchet & Clank, Fuse). Esses sensacionais trabalhos e esse estilo incrível pertencem ao artista Vasili Zorin. Confira!   VISITE:  Vasili Zorin For English speakers: Today we bring you a selection of artworks created for the game Sunset Overdrive, from Insomniac Games (Resistance,  Ratchet & Clank, Fuse). These astonishing works and...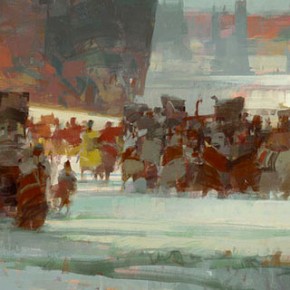 Realmente inspiradores os trabalhos de Theo Prins, atualmente concept artist no ArenaNet, estúdio responsável pelo desenvolvimento do game Guild Wars 2. Gosto muito do estilo das artes no ArenaNet.  Podemos perceber uma bem vinda liberdade criativa em trabalhos desenvolvidos por artistas do estúdio, como Levi Hopkins, Daniel Dociu, Horia Dociu ou Kekai Kotaki, por exemplo.  Também é fácil notar essa mesma força...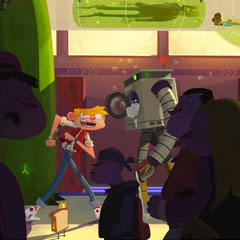 Foi lá em 2011, quando o blog ainda estava no seu primeiro ano de vida, que divulgamos aqui alguns trabalhos criados pelo grupo S.T.E.A.K. Kollective, do qual faz parte Anthony Vivien, artista que daremos destaque hoje. Hoje trazemos novamente, mas de forma mais atualizada e completa. Abaixo você confere as artes do (sensacional) curta Salesman Pete and the amazing stone...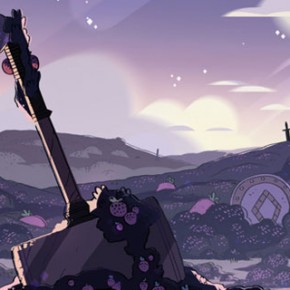 Abaixo trazemos mais um pouco da arte produzida para os episódios Open Book, Jail Break, Love Letters, Winter Forecast e Rose's Scabbard, todos do seriado Steven Universe, em exibição no canal de TV por assinatura Cartoon Network.  As artes são do Steven Crewniverse, o blog oficial da série.  Veja no final desta página outros posts de Steven Universe. (Episódio:...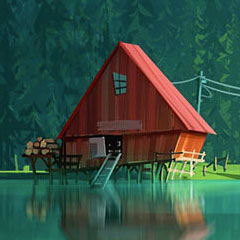 O artista Clément Dartigues , um dos responsáveis pela produção do curta Walter – The Gathering, publicado aqui no THECAB em 2013, foi gentil o bastante para nos atualizar a respeito de seu mais recente trabalho.  São várias artes de conceito e produção criadas para o seriado de TV Grizzy and The Lemmings,  desenvolvido pelo estúdio de animação e produtora Studio Hari,  de Paris. Para...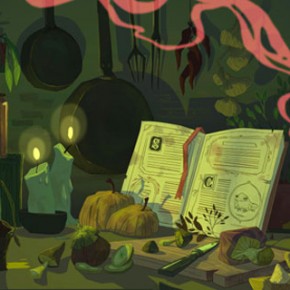 Trazemos hoje para destaque os belíssimos trabalhos da artista Cécile Carre, atualmente estudante do curso de animação da Gobelins, l'école de l'image. Cécile foi a responsável pela criação de um dos bonitos curtas homenageando as mulheres na animação apresentados do último evento Annecy 2015.  O dela foi Mary Blair. Abaixo  você vê as artes da produção do curta...