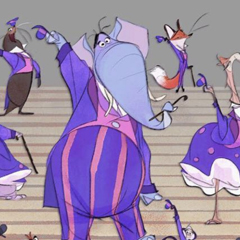 Uau!  Realmente pirando com esses maravilhosos desenhos criados pelo character designer James Woods para o filme Mary Poppins Returns, do estúdio Walt Disney Animation, que recentemente chegou aos cinemas de todo o globo. Aqui compartilhamos vários dos desenhos, mas você pode ver todos eles visitando o Instagram de James Woods, que mostra uma galeria verdadeiramente inspiradora.  Visite e confira todas!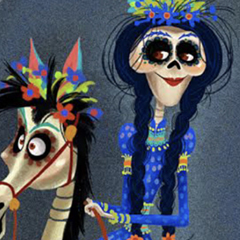 Compartilhamos agora mais alguns personagens do filme Coco (A Vida é uma Festa), dos estúdios Disney / Pixar, publicados no instagram da character designer Zar Galstyan. Confira!
Destacando hoje algumas artes de desenvolvimento criadas para Olaf's Frozen Adventure, curta de animação 3D dos studios Disney/Pixar, exibido junto com o filme Coco. As primeiras imagens que você vê abaixo são do artista Armand Serrano, publicadas recentemente na sua página do Facebook. A segunda parte foi publicada originalmente no site "Oh my Disney". São incríveis!...
Trazemos hoje uma pequena seleção de concept arts criadas pelo artista Paul Abadilla (Cars 3, Finding Dory, Inside Out, Brave) para The Good Dinosaur, filme do anos de 2015 produzido pelos estúdios Disney/Pixar . Visite o website para ver vários outros trabalhos do artista.
Segue abaixo o trailer oficial do filme Coco, dos estúdios Disney/Pixar, que chega aos cinemas em novembro deste ano. Confira!
Mais uma galeria bem legal com artes do seriado Star Vs the Forces of Evil, exibido no Disney Channel, com destaque para os trabalhos do artista Drake Brodahl. Nao deixe de conferir também outros posts destacando as produções de Miranda Tacchia, Rafael Hurtado, Matthew Thiebes e Michelle Park.
E continuando a galeria de cenários e personagens da série Tangled, da Disney Television Animation, trazemos hoje vários cenários produzidos pela artista Fiona Hsieh. Confira também os posts anteriores para ver mais artes de Tangled the Series.
Abaixo trazemos alguns trabalhos de character design criados por Bobby Pontillas para a série Tangled, do Disney Television Animation. Visite o blog para ver mais trabalhos do artista.
Os estúdios Disney Pixar divulgaram há pouco o trailer oficial do filme Coco, previsto para chegar aos cinemas em novembro deste ano. O filme conta a vida do garoto Miguel, que sonha em tornar-se um grande artista, como o seu ídolo, Ernesto de La Cruz. Ao longo da sua jornada, que inclui uma passagem pela bonita...
Hoje nós damos destaque a alguns belos trabalhos criados pelo artista James Finch para três filmes do Walt Disney Animation Studio, Big Hero 6, Frozen e The Princess and the Frog. Não deixe de visitar o portfolio do artista e ver mais trabalhos e artes pessoais.
Hoje damos destaque aos bonitos trabalhos de desenvolvimento visual criados pelo artista Mehrdad Isvandi para o filme Moana, do Walt Disney Animation Studio. Visite o blog do artista ou sua fanpage para conferir mais artes de Moana e também outros trabalhos.
Hoje trazemos aqui alguns trabalhos de desenvolvimento visual criados por Mike Yamada para Inner Working, curta do estúdio Disney/Pixar dirigido por Leo Matsuda. Confira!